TIL: Adding a Not-Yet-Landed Patch into my Local Firefox Build
I wrote a recent TIL about building Firefox from source, and it was in service of landing this particular patch. Warning – there be demons ahead.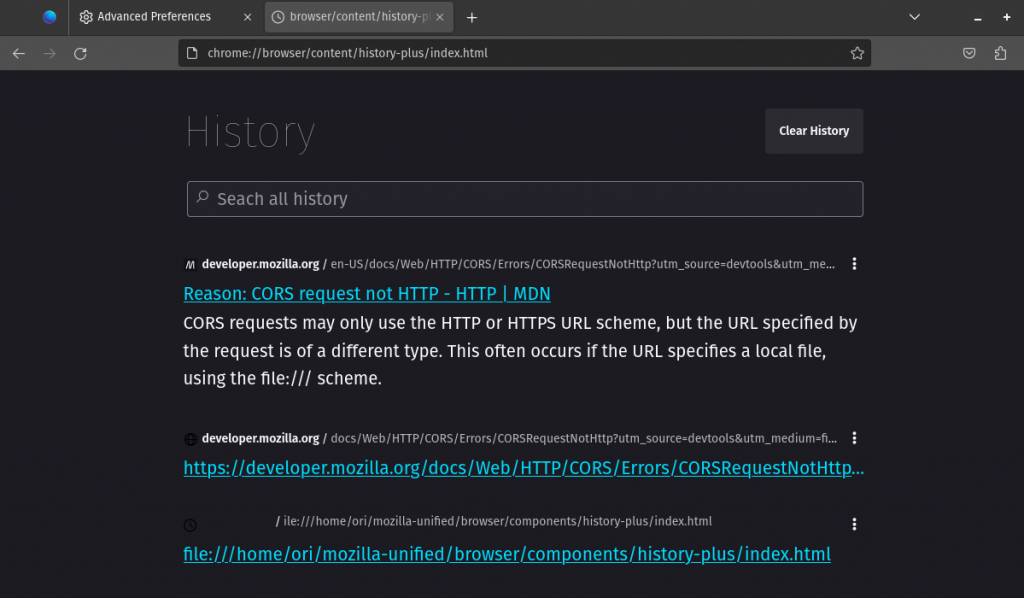 Local Firefox is built… now what?
I wanted to build Firefox from source in order to implement the changes found in the patch stack linked above. That's the beauty of open source – I was able to be sent a patch that someone wrote last summer, and even though it hasn't been made production-ready and merged, I can start working with it immediately.
In theory, I could have used mercurial to cherry-pick these commits into my local version. I didn't do that. Instead, I went through the 8-stack and started with the first dependency, copied the code down into my repo using a combination of vim and VSCodium (a version of VS Code that has the Microsoft bits stripped out). I re-built Firefox after each patch, to reduce the surface area for errors along the way.
When I finally built the last of the eight patches, I went to the local URL chrome://browser/content/history-plus/index.html as instructed in the Phabricator link, and… nothing.
CORS, Of Course
When I popped open the developer tools, I noticed that it was the dreaded CORS error. Now, I can sometimes work my way through these on a good day, when I'm not working with a home-grown browser stack, but today I had No Patience. YOLO.
I changed some of the WARNING YOU MIGHT BREAK THINGS settings in about:config, specifically:
security.fileuri.strict_origin_policy (to false)
security.mixed_content.block_active_content (to false)
security.mixed_content.block_display_content (to true)
I'm reasonably confident in my abilities and sandbox that I didn't cause permanent harm for this particular use case, but if you're a friendly and want to explain to me why I'm wrong, please do.
Wait, so what's it actually doing?
The full Phabricator stack that I linked to above is doing a few different things:
It's enabling FTS5 for SQLite, which allows text search
It's creating a new actor to cache content from pages you visit, then storing this cache, compressed, into the SQLite database that is built-in to the browser
It adds a script to scrape and fill out the history that gets cached (note: I'm not sure if the Marionette script is only required for testing, or if it's necessary to have the functionality work. I included it)
It adds a component to show the cached results to the history-plus/index.html page.
Now what?
Now, the shiny screenshot you see above appears when I navigate to the index.html page of the history-plus component that I've added. When I visit new pages, they're showing up here. If the page has proper metadata, there is some descriptive text that shows up (hence the presumed choice of "history-plus" – it's your history, plus context from the page).
There are a few things on my now-growing to-do list:
Build this on my Mac
Figure out how to fix my own site post metadata so that the summarized text shows up
Poke around with the script to try to scrape more of the webpage content
Find a way to interface with the SQLite DB on my local computer to ingest it in privateGPT.
Happy Monday!